Woodland Wedding
This summer we were fortunate enough to be invited to play and sing at Martin & Nicky's woodland wedding at Arnos Vale. Just step into 45 acres of stunning woodland in the heart of Bristol and be prepared for a wonderful experience.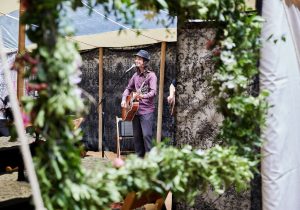 Wedding coordinator Buffy Jones made us feel extremely welcome and had the event perfectly planned. She also cued us in for the our rendition of The Monkees – I'm a Believer and the lovely couple walked down the aisle.
A highly recommended daytime wedding venue with the authentic rustic feel.
https://arnosvale.org.uk/weddings/

Testimonial
The setting for our August 2018 wedding was the beautiful Arnos Vale's Woodland Undercroft. There was a "Gothic Lite" theme to this largely (we had a marquee!) outdoor event which we wanted to be as informal as possible. It was important to us that everybody who was attending or contributing to the event felt that they were able to participate in the occasion as guests.

For this reason we wanted musicians who we felt would "fit in" the with guests as well as playing the type of music that we wanted . Having trawled through various websites we discovered the "Hot Hats" and, having played their version of "Friday I'm In Love", knew that we didn't need to look any further. The sound was great and the image of the band was just what we wanted for a woodland wedding. Having then seen the band play a couple of times, it was clear that the personalities and sound was just what we wanted.


As there was no particular running order for our afternoon reception, our brief to the band was, basically, "play when you think you need to" and this worked a treat. In addition we were played down the aisle to the band playing "I'm A Believer" which was a really special moment for us.


There was good communication at the point of booking which was a painless process and continued contact with Alfie made arranging the event so much easier.

We loved the band and the guests loved them as well. We would therefore have no hesitation in recommending the "Hot Hats" for your event.

Martin & Nikki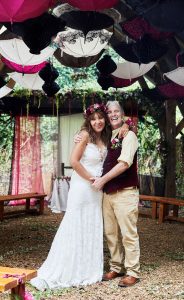 P.S. If there was a downside to our afternoon it was that Alfie (despite his best efforts) was unable to teach the bride to properly strum a guitar but, in the overall scheme of things, we'll let that pass!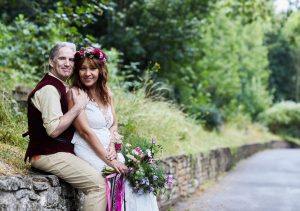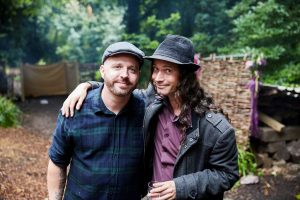 Thank you to Simon Withyman Photography. https://simonwithyman.com