Small Wedding Band
The Hot Hats are the perfect small wedding band. If you are getting married in a small intimate venue and want your guests up and dancing then we are the band for you!
Small wedding band set up means we can perform in the smallest of places. We both sing, play guitar and have the extra addition of a stompbox (drum) to keep people dancing throughout the evening.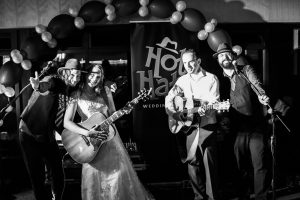 Review our testimonials from just a few small weddings we have played over the past 12 months.
Testimonials
Greenbank Hotel Falmouth
The Hot Hats played at our wedding reception in Falmouth – June 2018. We could not have been happier about the show! We were struggling to find a small band that would do the whole package with requests for a particular mix of 70's rock through to recent indie songs among others – and the Hot Hats did it perfectly. Their style really suited the laid back summer wedding vibe of Falmouth. They kept people on the dance floor for a good few hours. Lots of laughter and banter thrown into the mix too and they instantly connected with the wedding party. I was able to leave these guys to it while I concentrated on the events of the day. They were prompt and ready to go as agreed so we had nothing to worry about. Would absolutely recommend the Hot Hats, thank you. – Alex Boydell
Bristol Wedding
Really pleased to have chosen The Hot Hats as our evening entertainment. Our wedding party was at The Gloucester Old Spot – Bristol. Everyone got on the dance floor straight away and even my Dad, who's not a dancer, showed quite a few moves 🙂 The song choices were great and pleased everyone's taste. Arranging everything and communicating with Alfie was equally as well organised! Couldn't have asked for a better band for our big day! Thank you guys sooo much! – Aiste & Mark 
http://theoldspotbristol.co.uk/
Beach Cafe Wedding
We recently hired Alfie's Hot Hats to play at our wedding reception which was held in a small beach café in Dorset. We were keen to have live, acoustic music that would fit the venue and then create an intimate party atmosphere . Alfie judged the day perfectly with low key chilling music through the afternoon whilst people ate and enjoyed the scenery, most importantly they switched to something livelier later in the evening. Around the day I had lots of comments from guests about how good they were. One of the guests is keen to hire them for his own party later this year. A small wedding band was the perfect choice, particularly for our venue. Overall highly recommended! – Lesley Turvey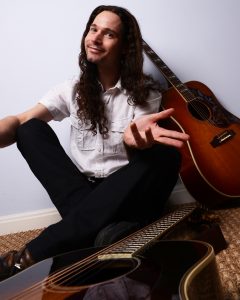 Small Intimate Wedding
When planning our wedding my husband Ben and I were looking for a small wedding band. We had limited space and access to power and were unsure that having a band would even be possible. All our fears were put to rest as soon as we found The Hot Hats. Alfie assured us that it wouldn't be a problem and they would work around the venue. The whole process of working with Alfie was a total pleasure, from first contact prior to the event to partying alongside us in the evening. Their music was fantastic together with a tailored DJ playlist in between. We were devastated when the set had to end because we were having so much fun! Thank you Alfie and his team for the splendid job you did, They went above and beyond. We are already looking for an excuse to book them again! – Amy & Ben
Abbey House Gardens
We got married at Abbey House Gardens in Malmesbury. We had a small reception an intimate wedding of about 34 people therefore wanted a small band. The Hot Hats were fabulous – they played all our kinds of music (and were very flexible too), and furthermore created a brilliant atmosphere. They got everyone dancing and singing, including my dad and friend on the mic to their own version of Waterloo Sunset! They even took some DJ requests on the night between their live sets. I would definitely hire this small wedding band again for any kind of event, big or small. – Ellie Holton